UPDATE: Testing locations as of November 2023 are as follows:
Altamonte Springs, FL
Anderson, OH
Amarillo, TX
Arcadia, AZ
Arden Hills, MN
Apple Valley, CA
Apple Valley, MN
Avondale, AZ
Ashburn, VA
Bentonville, AR
Boughton Road, IL
Brigham City, UT
California, MD
Cascade Station, OR
Castle Rock, CO
Charlottesville, VA
Chattanooga, TN
Chino, CA
Cinco Ranch, TX
Cumming, GA
Cottleville, MO
Fishers, IN
Gulf Breeze, FL
Johnstown, CO
Kennewick, WA
Lakewood, WA
Lubbock, TX
Madison, AL
Madison, MS
Mandarin, FL
Mechanicsville, VA
Mesa Groves, AZ
Minnetonka, MN
Morris Plains, NJ
Mount Juliet, TN
Naperville, IL
Newtown, PA
Ocean, NJ
Oro Valley, AZ
Palm Beach Gardens, FL
Pensacola, FL
Portsmouth, NH
Progress Ridge, OR
Rancho Cucamonga, CA
Rochester Hills, MI
Roseville, CA
Sammamish, WA
San Antonio, TX
Santee, CA
Simpsonville, SC
Smyrna, TN
South County, MO
Southpoint, NC
Sparks, NV
Valparaiso, IN
Vestavia Hills, AL
Wicker Park, IL
On Wednesday, November 30th, 2022 Crumbl Cookies sent out an email announcing "Exciting Cookies News!" In the email, those that live near a Crumbl Cookies that is a Testing Location were informed of the process of "how to test a cookie". This is the email: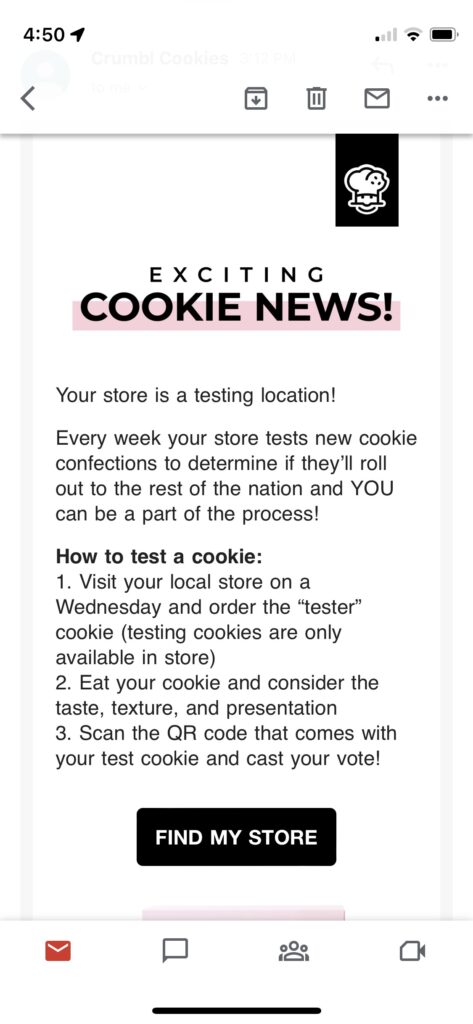 Note that this email was sent to Crumbl Cookies customers at some of the new stores that are testing locations as well. While we have compiled a list of testing stores from June 2022 below there are definitely more stores on that list now. When we find out all the new testing locations we will update this page.
Below is a list of the testing locations in which Crumbl Cookies stores will be testing one new cookie flavor each Wednesday. This information was posted by Sawyer Hemsley on his Instagram story in early June 2022. We have confirmed that the Testing Locations offer the "Cookie in Testing" on Wednesday and those that test it can send a review to Crumbl. Crumbl Cookies then crunches the data and decides if the cookie will be a weekly flavor in the coming weeks or months. Some of the "cookies in testing" have included Cookie Butter Ice Cream, Raspberry Butter Cake, Strawberry Shortcake and Peaches & Cream. We made list of the Cookie Flavors in Testing here. We can't create a Map for the locations like the Mystery Cookie Map, but they are listed below.
Ahwautukee, Arizona
Alamo Ranch, Texas
Almamonte Springs, Florida
Arcadia, Arizona
Aventura, Florida
Avon, Ohio
Avondale, Arizona
Ashburn, Virginia
Beach Haven, Florida
Bensalem, Pennyslvania
Bentonville, Arkansas
Bloomington, Indiana
Brigham City, Utah
Castle Rock, Colorado
Chattanooga, Tennessee
Chico, Califonia
Cinco Ranch, Texas
Cumming, Georgia
Cottleville, Missouri
Dublin, Ohio
Fishers, Indiana
Kennewick, Washington
Lake Mary, Florida
Lubbock, Texas
Madison, Alabama
Mandarin, Florida
Mechanicsville, Virginia
Mount Juliet, Tennessee
Marysville, Washington
Oro Valley, Arizona
Palm Beach Gardens, Florida
Portsmouth, New Hampshire
Queen Creek, Arizona
San Antonio, Texas
Scottsdale, Arizona
Simpsonville, South Carolina
Tacoma, Washington
Tempe, Arizona
Wichita Falls, Texas
Wicker Park, Illinois
Yuba City, California
Many people are Googling or asking on Reddit "what is the tester flavor at Bentonville, Arkansas this week?" Or, "what is the extra flavor at San Antonio Crumbl"
At this point, we have no idea which stores are going to be "testing locations" nor what the testing flavors are going to be for the upcoming weeks. When we get this information we will pass it along, but if you are near one of the stores listed above, you have to call the location or visit. If you go onto the Crumbl Cookies app for the locations above it does not show the "tester" cookie or "Cookie in testing" which will be seen in the store location.